Every end marks a new beginning. And if you are a Bengali or have lived in Bengal, you can totally relate to this statement and the pompous celebrations the Bengali Naba Varsha brings in its wake every April. Fondly called Poila Basakh, this occasion calls for carrying forward the age-old, yet fast fading, Bengali traditions, whether in rituals or delicacies.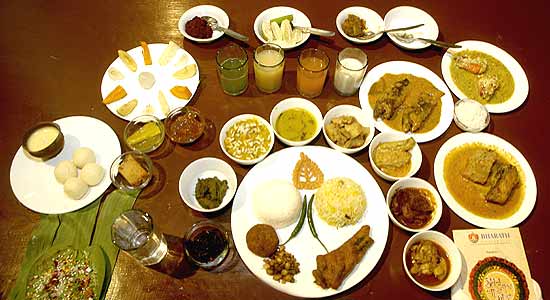 Significance
On Poila Basakh that signifies the first day of the first month of the year (according to Bengali calendar) which this year will fall on April 15, 2018, the people of West Bengal, regardless of race, religion or political color greet each other openly, often with sweets and savories. Many also visit temples and other religious places seeking God's blessings for a happy and prosperous new year.
As a form of cultural event people take out morning processions called Pravat Feri, chanting religious mantras, along with spiritual songs, sung by participants. People invite friends and relations for a sumptuous dinner at night too. In fact, the whole day is spent in happy and peaceful ambience, men and women temporarily overlooking the ravages of contemporary hectic life.
While Poila Basakh is a celebratory occasion, the heat and humidity of April also make it a breeding ground for unhealthy diseases arising from kitchen insects such as roaches. I as a mother am extra conscious when it comes to cleanliness and hygiene in my cooking space as bad health or disease can occur if you consume food cooked in unhygienic kitchen. So, make sure your kitchen is one of the cleanest spaces in your home. Only keeping your utensils cleans is not enough; you have to rid your kitchen of roaches and other harmful bacteria. Generally, cockroaches hide in cracks and crevices which can generally not be reached during regular kitchen cleaning. Therefore, I make sure that I clean the kitchen thoroughly and I use Godrej Hit, which is now available in a fresh fragrance, as it is not only effective in terminating these disease spreading cockroaches, but its long nozzle helps me to disinfect even the deepest corners in the kitchen.
While I am not originally a Bengali, being married and then moving to and residing in Kolkata has made me a Bengali at heart. So every year, on the occasion of Poila Basakh, I make a special Bengali delicacy, which my husband has been enjoying ever since he was a child. Continuing the legacy, I will be preparing the dish this year as well, which my kids also enjoy. If you are wondering how to make your Poila Basakh special and flavourful, you too can try my recipe out.
How To Make Puri Or Bengali Luchi
Luchi is a favourite Bengali style indian deep fried flat bread which is made of flour. It is very much similar to pooris. Bengali loves to eat with meethi cholar dal or Aloor dum.
Print
Pin
Rate
Ingredients
Instructions
Take a large bowl and pour maida in it.

Add salt, sugar and 2 tsp oil into it.

By gradually using enough and sufficient water make stiff but pliable dough.

Dough should be stiff enough to roll without extra flour.

Make small balls of the dough and spread little oil on it so that while rolling it will not stick with the rollers.

Take one ball of dough and roll it out into 5 to 6 inches round.

Repeat the same process to roll out all pooris.

Heat oil in a pan until it becomes very hot. Put luchi and slightly press the top of it with a spatula so that it will swell up like a ball.

This should take only a few seconds. Flip the luchi over and cook the other side until golden brown.

Take out on absorbent paper and serve

Serve hot with curries,meethi cholar dal or vegetables.
See Recipe Video
Notes
Note:
1) You can Cover the dough with damp cloth and set aside.
Nutrition
Serving:
1
g
|
Calories:
228
kcal
|
Carbohydrates:
48
g
|
Protein:
6
g
|
Fat:
1
g
|
Saturated Fat:
1
g
|
Sodium:
148
mg
|
Potassium:
67
mg
|
Fiber:
2
g
|
Sugar:
1
g
|
Calcium:
9
mg
|
Iron:
3
mg