I was delighted to visit the Häfele Nagold Appliance Showroom that was launched in Kolkata, on 20th January, 2018, at the prime location of Mahendra Roy Lane, in Topsia.
Häfele is a German company that is internationally renowned for its "Interior Functionality" products, like modular furniture fittings, and kitchen fittings, and now even sophisticated kitchen appliances is under their belt. I had come across the commercial ad of Häfele's Nagold collection of kitchen appliances on Youtube, sometime back, and drooled on the products with awe. Hence, it was an obvious thrilling experience for me to know about the launch of the showroom, right here in Kolkata, and at this primary location of Topsia. Not just that, I got to know about it directly from the Häfele Kolkata administrator, who requested me to attend the showroom and have a look at the collection. So here I go.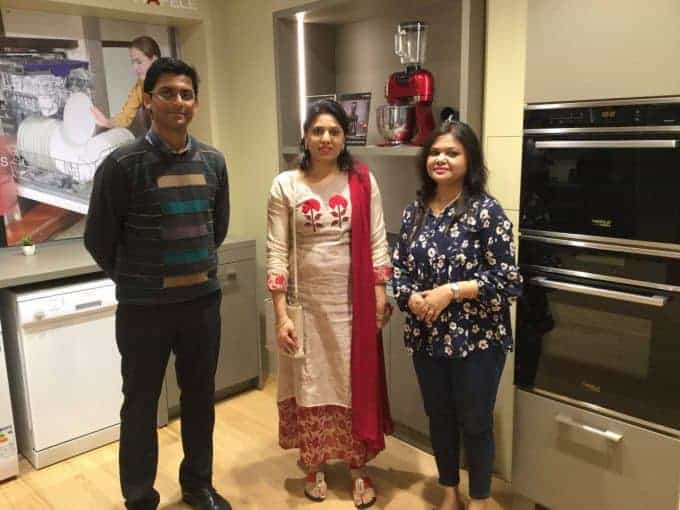 A Prime Location
I visited the showroom about 10days after the inauguration. The showroom is pretty much on the main street, of Mahendra Roy Lane in Topsia. That is real easy to locate. I met Chandrani ji, the showroom manager, who showed me around and told me everything about each product in such clarified details. I shared the experience with my viewers, on a Facebook Live video streaming, and really enjoyed participating in the endeavor together.
Sophisticated Microwaves And Ovens
We started with the series of microwave ovens and built-in ovens, of the Nagold Diamond Series. The products are truly sophisticated and pact with multiple features. The unique thing about some microwave models is the "flat-board design", that doesn't have the usual turntable tray, and lets you use any type of containers to heat food. The price range for microwave ovens starts from INR. 29,990. What fascinated me was their range of "Steam Ovens" that has a water outlet to allow steam cooking. The steam provides essential moisture to the food, preventing unwanted drying up. This is such a smart thing to have, for reheating food. Moreover, a healthier option too, as the steam substitutes a lot for adding more oil to the food.
Energy Efficient Dishwashers— My Best Pick
Following the ovens, we moved on to see the dishwashers. It's a very compact and utilitarian item to have for any household. Dishwashers are yet still not a very common appliance to have in Indian homes. Believe me, just like washing machines, it will save you a lot of time and energy for cleaning utensils. We were shown the built in models that will be customarily fitted to your kitchen cabinet.
Learnt A New Word, Cookerhoods— It's The Good Old Chimney!
Then we moved on to hobs and cookerhoods (it's the good old chimney, in case this is a new word for you tooJ). What fabulous collection! Really loved it. So chic and minimalistic. There are the inclined chimneys, with touch screen features. Super stylish. There is an oil catcher fitting as well, for filter free extraction of heavy fumes. It is designed to specifically reduce the amount of oil accumulating in the chimney (one of the primary causes for chimneys to catch fire, BTW). I particularly liked the model "Angela 90" because it is so pristine!
What's A Kitchen Without A Stove
We also came across the hobs and burners, there are built-in hobs as well, and the products are ideal for Indian kitchens. The collection features very elegant products, especially the J-series, amazing orange brass rings and the chic black burners, along with the glossy glass body.
Nagold Refrigerators With Tropicalized Compressor
Next, we moved onto the Nagold "Free Standing" refrigerator collection. What I loved was that you can convert sections of the fridge into refrigeration or freezer as per requirement. Mr. Prateik Biswas further explained us a lot about the refrigerator mechanisms, like their concept of flexible temperature range of -24/+4ºC helps you keep different foods and beverages at an ideal temperature.
The Häfele Nagold Appliance Gallery In Kolkata — You Must Visit!
Even though our main focus was on kitchen appliances, we stopped by the washing machines for a quick look. All the machines are mainly front loading. Its USP is its silent or vibration mode, and wrinkle free washing. So say goodbye to noisy washing. Awesome!
Häfele Nagold Appliance Gallery is a showroom, not a retail store where you can buy the products instantly. The idea of the showroom is that the products are put on display, and NOT FOR DIRECT SALE, instead you can learn about the displayed products, in detail, actually see them up and close. Then, if you like what you see, you may place an order here, and expect a partner dealer to get in touch with you. Hafele has dealers as well as retail stores all over India, in all states and most cities.
You can also see my facebook live from store here